Safely flying overseas with a valuable bike
Last time I flew to Australia I faced the dilemma "Should I travel with my bike from France to Australia, or should I get the one I already have there (although interstate)". Past the shiver that hits you just thinking of putting your valuable bike in a bag that may be thrown about by airport baggage handlers, you calm down a bit and start to think rationally.
What is my weight allowance? Do I have a proper case for it? What will be the actual physical stress that my bike will endure? Well, I have tested this for you . . .
When you are in the boarding room looking at the big metal bird it is kind of too late to make any changes to your plans, that includes changing the way you protected your valuable acquisition. Therefore what's important is the lead-up to your decision, the"before". Let's review together the decision-making process that led you to decide to take your bike, and what I believe from my experience is a safe way to pack your bike.
Should you take it or leave it?
Who are you flying with?
The answer may determine your decision. If your airfare budget is limited, you may not want to spend the very expensive levy for overweight baggage. A bike case + the bike + the necessary tools and accessories will easily total up to 20kg already. How much is left for the extras . . . i.e. the essentials for you?
Choosing Emirates makes sense
I recommend flying with Emirates. Don't think I get a commission from them! I simply think their offer makes the most sense. They allow 30kg checked-in baggage allowance in Economy from Australia to Europe, have competitive rates, rife specials, codeshare with Qantas, and the service is great. Ok, our registered nurse on tour used to be a flight attendant with them, but that did not entirely influence my decision to introduce them as the favoured carrier for a tour in France. Seriously, they offer you an extra 7 to 10kg compared to other airlines. This is really enough to allow you to pack your personal effects in a separate bag or even within the bike case. So why would you bother flying with another company?
There are daily flights and you arrive in France overnight. Leave Australia in the afternoon or in the evening (the best timing I think is the late flight ex-Perth), and get in in the morning or at around noon in Paris or Nice. Oh, because I didn't mention that Nice is also a direct destination from Dubai!
Pros & Cons of travelling with your own bike
Pros
The pleasure of seeing your very own bike at arrival, and have the same riding feeling and technical experience as when you're back home.
The pride of taking your loyal bike onto new roads and new passes.
Savings you make by not renting one.
No getting used to another bike that's not quite giving you the feeling you are accustomed to.
Use your bike before and after your tour.
Use the opportunity to buy any new part, small or large, at French price (so . . . low), and mount it immediately on to your bike while you are overseas or on tour.
Cons
Risk damage or loss during flight or transit.
Risk damage or theft during your stay overseas.
The hassle of packing, wrapping, removing some parts or turning the handle bar in the case, twice.
Having to get a bike case.
Discussion over the cons
Risk damage or loss during flight or transit
Prevent damage that could be caused by mishandling and contact with neighbouring baggage by referring to section href://#constraints-study:Constraints study: down below.
Loss is quite rare, but can happen. With or without travel insurance, today's flight regulations do include a compensation for any delayed or lost baggage. But travel insurance, being a necessity and not just an option, can make up for any loss not covered by the former, and not just loss of your bike, in the very unlikely event of it being lost forever.
Risk damage or theft during your stay overseas
Theft is even less likely than damage during air transportation. However, if you are not careful with it while out and about overseas, it could get stolen. You could see your bike stolen in particular if you apply your"Australian vigilance standards", which are quite lenient, in a country where the "Système D culture" beats you. To avoid any chance of misfortune, keep an eye on your bike 100% of the time while overseas and it will be ok.
The hassle of packing, wrapping, and removing some parts or turning the handle bar in the case, twice.
There is not much we can do about this one, except considering it is just one hour after all. Compare it to packing your normal stuff. What do you really lose when you consider the benefits at the other end.
Having to get a bike case
For the sake of your bike, please consider a bike case if you do not own one already. It is more than a nice-to-have, it is a must-have. You can do without a hard case though, as they are quite heavy and expensive. Obviously it would definitely protect your bike from being crushed; however, if you follow the advice given below, you will be off on a relaxing flight with peace of mind on this issue and should find a healthy bike upon arrival.
"Now that I've got it here I don't regret it."
Nothing beats the feelings of excitement and satisfaction you will have when the airport ground staff deliver your oversize bundle of joy for you to pick up. Of course!
The proper way to pack your bike
Packing Basics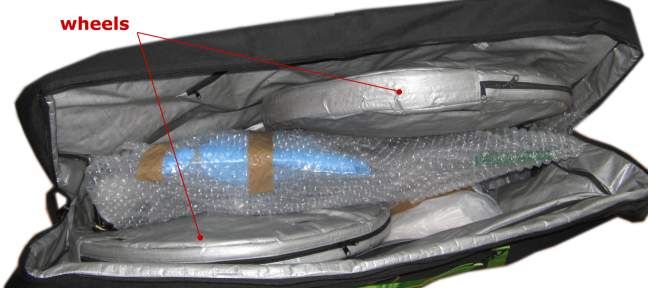 The basic rule of thumb is to unmount the wheels, pack them individually, and place them in the same case as the frame, alongside it on each side, and at opposite ends. The"walling" effect they procure will act as additional padding and will distribute any outside stress more evenly over the frame. Remember, damage occurs when pressure on a very small surface exerts excess force on a single part, and also from sudden shock.
The packing job can be made easy using a similar type of case as the one depicted in this article. I used a Polaris case (made in UK). This case ships with two wheel cases, that are large enough to accommodate inner cases such as the standard black Mavic cases or other brand your wheels may have come with when you bought them.
Advanced packing: constraints study
Not just any thick and ample padding will be good enough. Packing is an art. Any large company which ships its products nationally or internationally actually mobilise one or more full time engineers to design appropriate cartons and padding. What is necessary is to not spend hours learning about the theory, but know what the rule of thumb is, so that you can use whatever is available to you at home to pack your bike, and therefore defeat the evil forces that wish to harm it . . . physical forces that is.
The rule of thumb when you pack is that you must speculate, based on common sense, what the stress on the pack will be. Pack it to oppose this stress without detrimental effect on the bike. Basically, you must make contact surfaces between your bike and the inner wall of the case as large as possible, so that any pressure applied inwards onto the outside wall of the case finds some large surface to spread onto, hence reducing that pressure.
Don't worry, it will only take a few minutes to figure out how you should pack your bike. What may take a bit more time is to find packing material and actually pack it.
So, what pressures may the bike case be subject to?
Inwards pressure on the larger sides of the case is the most likely. For example in the situation where your bike is at the bottom of a baggage container, and a heap of suitcases lie on top of it. Another situation is when an odd-shaped object, pointy let's suppose, applies pressure on your case because it is itself being pressed against it by other pieces. Any pointy part exerting pressure can create a hole, a dent, scratches, or bend a part on your bike. We will now see in the section below how to pack and pad to prevent these unwanted damages.
Addressing the stress
Checklist
You will find below a sequence of actions you can follow to address all the weak points of your bike and avoid it getting stamped or damaged during transport.
Reminder: take both wheels off and place them in the wheel sleeves provided with the case or at least in some kinds of wheels cases. Ideally cut four disks of cardboard to make"wheel sandwiches". Cardboard is easy to find weekly in large furniture shop bins.
Put spacers on the fork and drop-out, as shown on the picture, to avoid cracking the frame in case of a side pressure. You can easily find spacers at your favourite bike shop as they should receive some every week when they receive frames. They should be given away for free as they become useless to them once they unpack the frames.
Protect the brake callipers with a piece of tape or cardboard, as shown on the picture.
Remove the seat+post altogether. Don't just unscrew and push it down: you would scratch or mark the post with a ring forever (sounds familiar?).
Unscrew the handlebar loose, just enough to turn it along the frame, and roll it around a bit to space volume. This way you can leave the fork straight, therefore not stretch the cable casing.
Optionally, remove any tri-bar.
Protect your brake/speed handles with several rounds of bubble wrap.
Insert a bit of bubble wrap or foam to avoid the handlebar to hit on the frame top bar.
Prevent the handlebar from moving away from the frame top bar with elastic bands. Avoid tape to avoid leaving glue marks.
Prevent the chainring from spinning by immobilising one of the crank arms with one or two tight elastic bands, much like triathletes do when they run with their bike to the start line.
Prevent your bike from sitting on the floor as you pack, or within its case eventually, on the bottom of the chainring or the bottom bracket. To do this, cut an appropriate size slit in a block of foam (or polystyrene) and place it the bottom of the chainring, as if it was a bike holder. This part is one of the most important points. You could damage one or more chainring teeth if you neglect this.
If you can't have access to foam easily, just use layers of bubble wrap, or even an old thick jumper or little coat than you can find virtually for free at the foot of a recycling clothes bin (Salvo's, etc . . . ).
Avoid any subsequently added objects to the case to move around inside during transport. They could damage your bike from within. I am thinking of the seat+post you unmounted before, any Allen keys, screwdrivers, spanner, or anything you may need to mount. Every hard object within the case must either secured away from the bike (using the lateral pockets of the case), not be damaging themselves for the bike, or wrapped enough to avoid any damages if they hit the bike, or are pressed against your bike because they are themselves pushed by another piece of baggage.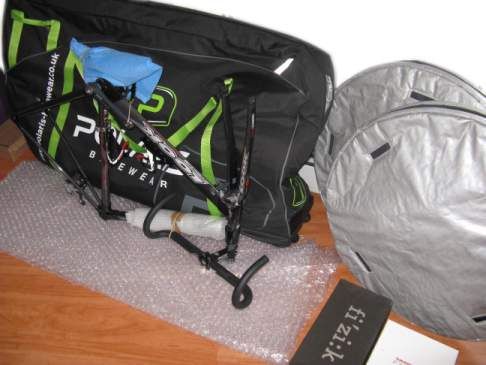 the whole packing job look long and tidious. In fact it is not really. One hour is a reasonable time to spend on packing. Some extra time will be needed prior to this job to gather padding and protecting material. This protection material can be acquired for free if you just go and visit the bins of a big furniture shop (IKEA, Harvey Norman, etc . . . ) next time you see drive next to one. I also found some really interesting padding materials, including blocks of polystyrene, in the good quality boxes that you will find in most university bins, since they regularly receive new equipment.
What you get for free
A bike is full of void when you look at it. It has a wire design in fact. The frame, the wheels, the seat and handlebar mostly are slim but odd shaped. As a consequence it leaves a lot of room in the case. Use this bonus to add your cycling clothes and other clothing you will need during your trip. Not only it will work as extra padding, but this way you can even save the weight of another bag or suitcase you could have taken on top. It is also a perfect place for bulky equipment, such as your helmet (that you should protect with bubble wrap), and also your bottles, that you can just place inside their holders. Remember a helmet is only as safe as it has never been dropped. I only travelled with the bike case and all my clothing and toilet bag inside. It was well enough to travel to a summer place, which will be.
Can I fly with CO2 cartridges?
Some state allow it, some others do not. I personnally have travelled from Adelaide with CO2 cartridges in my luggage, even in the cabin luggage. But, I had the same cartridges confiscated when I flew ex Newcastle. So check with your departure state aviation authority before departure. The number of cartridges you can take on-board, or in your checked-in baggage, depends on the mass of gas they contain. There are different capacities, 16 g, 24 g for example. Check you cartridges if not sure.
Ignore the myths you find on the web concerning this point. Just call your international airport security and they will let you know of the exact maximum quantity they will let you go through with, either in the cabin, but also checked-in.
Some tips on overcoming the bike issue
The travel case
I you are planning to take the TGV, from the airport to your tour departure city for example, or travel from or to the airport you arrived in (Paris or Nice), you will need a bike case. Soft or hard, it doesn't really matter. Believe me that the SNCF (national train company)